Introducing FileViewer
Your one-stop application to simplify Salesforce file storage. Tag and retrieve files using custom criteria that bring your files to life. Easily find documents with our user-friendly interface. Upload your files, edit your files, search your files, view your files, download your files, and more.

Salesforce files made easy
Allow FileViewer to bring your files to life. Use custom fields in Salesforce to curate a catalog-like feature to tag, search, and sort all documents uploaded within your Salesforce system.

Install & Go
Whether you are installing in an environment with existing files, or a brand new Salesforce instance, FileViewer requires minimal configuration to get started.

Seamless Integration
100% Native Salesforce Application. Your information stays on the platform and honors the robust Salesforce security model.

Custom Configuration
Create consistency in your process by configuring FileViewer with custom fields and keyword text searches, tailored to your file search needs. Simple for all Salesforce users to use effectively.

Easy To Use
Easily retrieve documents by using a variety of options: keyword text search, picklist/multi-select picklist search, date range searches, etc.
Precision
Use Salesforce Custom Fields to create File Tags – choose between using a picklist, a date, text, a multi-select picklist, or a combination of all to provide a versatile way to tag files during upload. Search and display files containing specific text values, complex ranges of dates, and for one or more picklist value(s).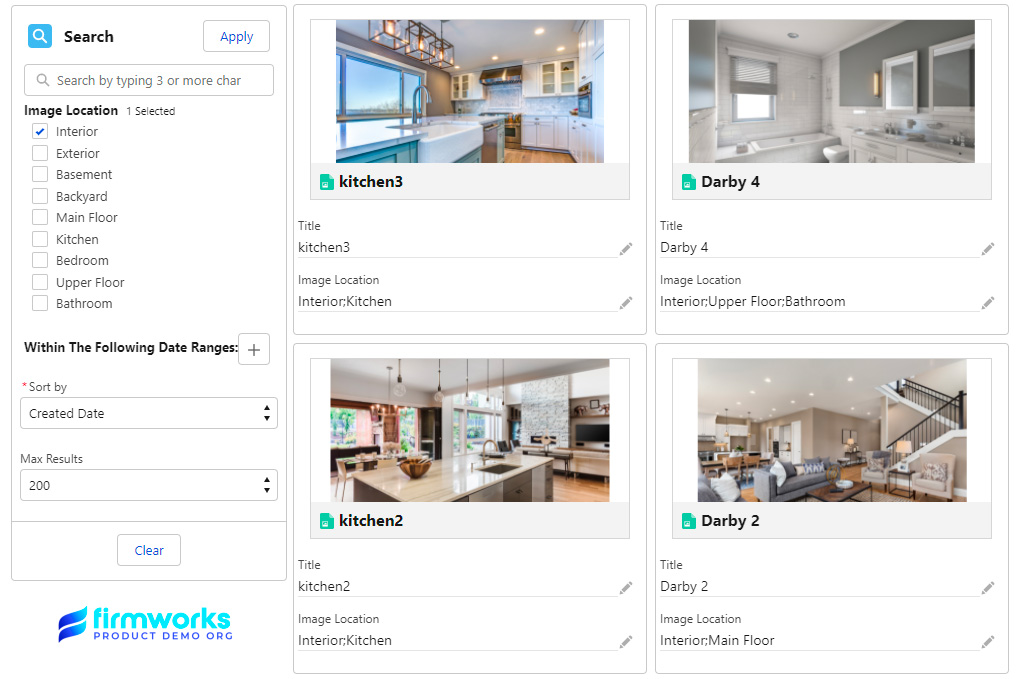 Control
FileViewer puts control into the hands of your end-users. Between choosing a preferred file results screen (list view or card-based), or an easy-to-use searching interface – Your end-users will feel empowered to leverage FileViewer to its fullest.
Security
The Salesforce security model is surfaced up to your users during the upload process in a single step. Security defaults are set by your Salesforce Administrator and can be changed during the file upload process. Experience Cloud and internal users can easily see shared files.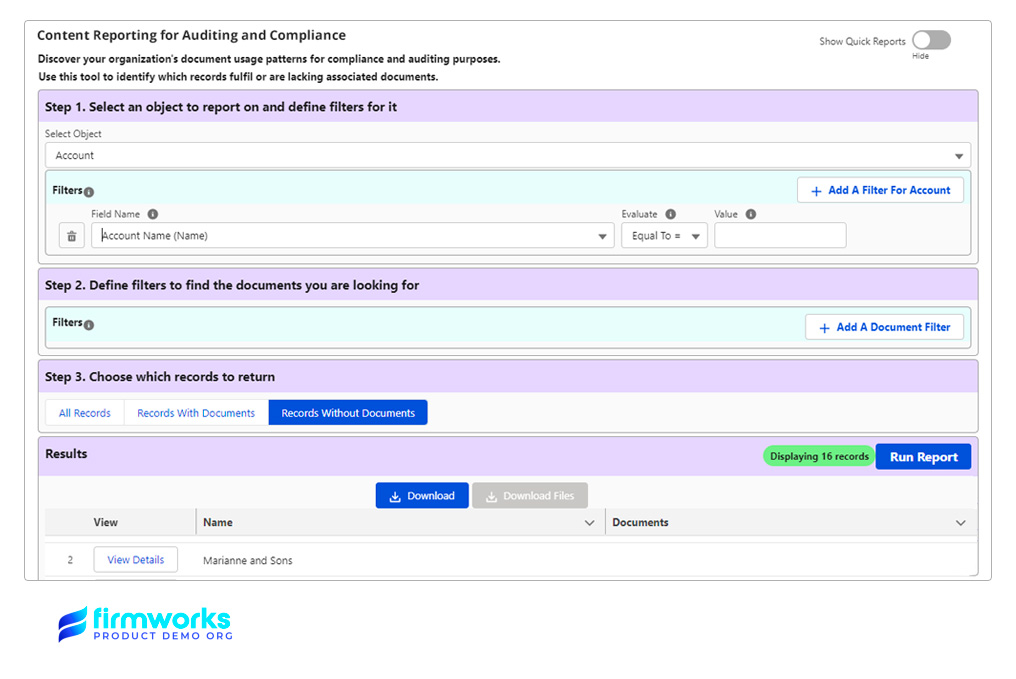 Visibility
Easily tag and upload files from anywhere. FileViewer can be added to any standard or custom object lightning page layout to get a contextual view of related files. FileViewer also comes with a custom tab that will allow your users to search all files they have access to.
Frequently Asked Questions
No, the FileViewer Managed Package is compatible only with Lightning Files.
After installing the FileViewer Managed Package, assign specific users the FileViewer Permission Set and grant each user a FileViewer License through Setup -> Installed Packages -> FileViewer -> Manage Licenses.
Create custom fields on the Content Version Object for File tagging.
Configure Lightning Record Pages on the objects where FileViewer will be used to Tag & Upload Files.
Optionally, use the Configuration Fields within the FileViewer Lightning Components to control default values, end user experiences, custom labels, and more.
For more details on Configuring FileViewer, see the Quick Start Guide.
In the context of FileViewer, a 'tag' is the categorization of a File using a custom field on the Content Version Object.
Example: A Real Estate Firm 'tags' photos of listings as either Commercial and Residential in a Property Type Picklist custom field.
Example: An Insurance Firm 'tags' Contracts with an Expiration Date in custom field that allows assigned Agents to query Contracts with upcoming renewals and export those Contracts.
Tags should be created by System Administrators with knowledge of Salesforce field types and File querying needs.
The following field types are not compatible with FileViewer.
Auto-Number
Formula
Geo-Location
Text Area (Long)
Text Area (Rich)
Text (Encrypted)
The FileViewer Installed Package contains a File Search Tab that will display all Files in a Salesforce database. This provides an area to filter across records for Files that share a common tag or search criteria.
Example: A Non-Profit Organization needs to export all uploaded Files of scanned images of Check Donations to provide for a Year-End audit.
FileViewer can query across all Opportunities where the File Tag was set to 'Scanned Check' and allow for an end user to download that set of Files into a local zipped folder.
The FileViewer Installed Package also contains three Lightning Components that allow for tagging, uploading, and searching Files directly on Standard or Custom Object records.
File Tagger and File Tag Launcher are both components that provide the 'Tag and Upload' features while the FileViewer components provide the Search, Filtering, and Download features.
The 'Share with Experience Users' toggle controls Experience Sharing as File(s) are uploaded to Salesforce.
See the Salesforce Help Article that defines these File Sharing Settings.

The 'Enhanced record access' toggle controls which Internal Salesforce Users can see and/or modify the File(s).
See the Salesforce Help Article that defines these File Sharing Settings.

When multiple documents are uploaded at the same time, all Files will receive the tags/values that were selected prior to uploading.
File tags can be changed or removed after the Files are successfully attached to the Related Record.
In the FileViewer Lightning Component or the File Search Tab, click the gear icon in the top right corner
to expose additional View and Download features.
Click the Download button for FileViewer to export all Files in the view into a zipped folder.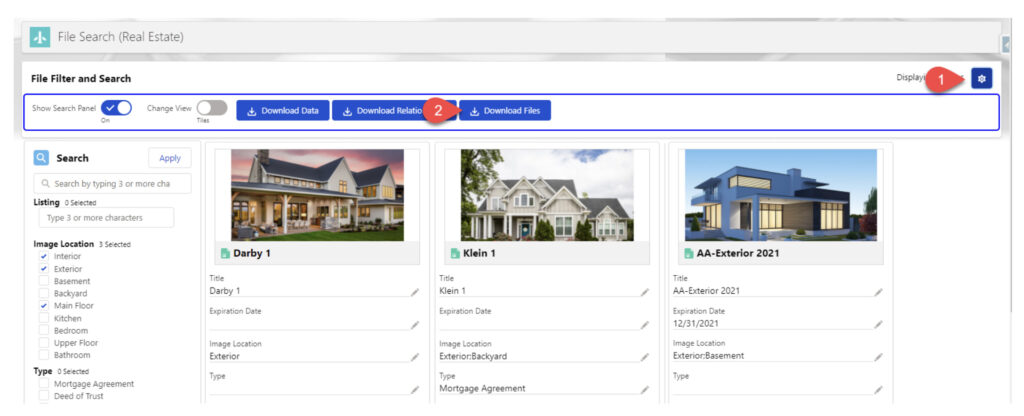 Get in Touch
Looking to purchase FileViewer but have questions?
Complete the form below and include any questions or concerns you have. Our team will get back to you shortly!